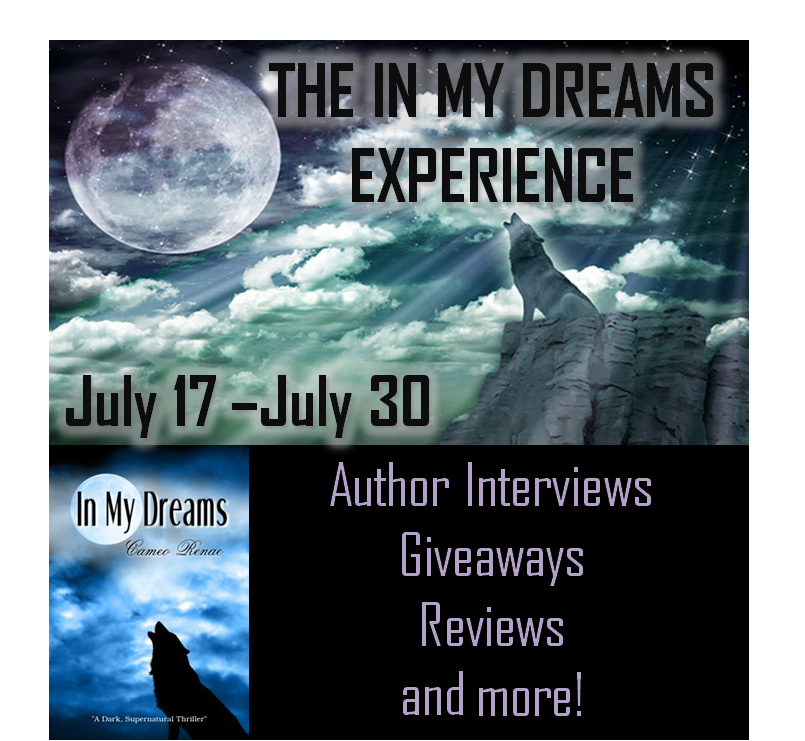 Hi! I'm stop number 13 of the
In My Dreams Experience tour
. Cameo Renae, the author of In My Dreams is stopping by today for a little interview! :) If you haven't been following the tour, there were 11 stops before me and 1 after me. Check out all the other tour stops
here
. The other blogs also have other fun guest posts, awesome interviews, and great giveaways!
Check out the
Goodreads
page for In My Dreams.
Synospis:
It was happening again. The dreams. The nightmares. It was something seventeen year-old Elizabeth "Lizzy" Hayes thought she'd outgrown; dreams that would come true; detailed premonitions of how people would die. This time she dreams about her boyfriend, Michael Young, and soon discovers that he's been found... dead.
Michael hasn't crossed over because he was murdered, and now his murderer is coming for Lizzy. His spirit won't rest until she is safe, and as a newbie spirit, the easiest way for him to make contact is through Lizzy's dreams. When she dreams, it's as if he hasn't died.
Lizzy must learn to pull on her inner strength to survive horrifying events. Meanwhile, in the spirit world, Michael learns everything he can about his supernatural gifts to help. But will it be enough to save her?....
You can read my review
HERE
ABOUT YOU:
1.)
Tell us a little bit about yourself.
Well... I'm thirty-something :), and married to my best friend. We have two kids... or I should say - teenager's. And we are lucky to live in Maui, Hawaii.
As a kid, I loved sports. I had two younger brothers, and was a tomboy. I didn't like wearing dresses, and went to a private school where we had uniforms - skirts and blouses with long socks. Ugh!
My father was born and raised on Maui, while my mom was a California girl. They met when my mom came to Maui on vacation. The rest is history. I was born in San Francisco, and moved to Maui when I was three, and have been here for 34 years. The only other place I've lived was in Alaska, for only 2 years.
Maui is definitely a cool place to live. Because it's an island, you tend to know a lot of people. It seems that everywhere we go, we run into someone we know, whether friend or relative. (And my husband has a lot of relatives on Maui!)
My parents and brothers all moved to Alaska about 15 years ago. Shhh- But we've been discussing a move back to Alaska. Maui is great, but we've been here so long, we're getting rock fever. I mean... how many places can you go on an island. Believe me... it gets boring after a while. Especially if you've been here all your life. I want to see seasons change, and snow fall, and see some new wildlife. But... that remains to be seen.
I'd love to live in Maui! :D 2.)Is there anybody who influenced or inspired you to write?
There are a few people that have influenced me. First, would be my grandmother. She is an AVID reader. She's 85 and has a book in front of her EVERY single day. My Aunt bought her a Kindle for Christmas. She didn't know what to do, so I had to show her the basic buttons... the ones to get to the next page. Every other day she calls me and says, "Cameo! I need you to come and download me a new book!" I've tried to teach her, but she just can't get it. Oh well... that's what are granddaughters are for. But she was a huge influence in my love for reading, which filled up my head with a visions of writing my own stories.
Before my mother-in-law passed away... one of the last things she told me was... "Keep writing, Cam." Her words still ring in my head and my heart. I miss her.And my husband definitely inspired me, and pushed me to follow my dream of writing. Thanks babe! ;)
Aww, you gran sounds cute! :) 3.)Best book that you have ever bought?
I'd have to say C.S. Lewis - The Lion, the Witch, and the Wardrobe. When I found that book it became my favorite. I read it over and over. It took me into a world of fantasy, and made me a fan. I loved it!
4.) If you could work with any other author, who would it be?
I'd have to say JK Rowling. She's amazing.
5.) What is your favourite part in a book?
The ending. If the ending is lame, then it kind of makes the whole book lame. But if the ending is great... then everything you read was worth it! :)
ABOUT YOUR BOOK:
1.) Tell us a little bit about your book.
In My Dreams is a supernatural romance, but it's also a thriller. Most readers so far have also said that it's really sad. In My Dreams is about Lizzy and Michael. They're best friends, and are taking their relationship to the next level when.... tragedy strikes. Michael is murdered, but he refuses to cross over because his killer is now after Lizzy. He'll do anything in his power to save her.
This story has a lot of twists and turns, and I must say...is very emotional.
2.) How did you come up with the idea of 'In My Dreams'?
I love to watch shows or movies on the supernatural or paranormal, and always questioned... What really happens when we die? In My Dreams is an interpretation of what I would love to think. Our loved ones are still around, watching over us, guiding us... It's a super nice thought.
I agree :) 3.) Do you see any of yourself or anyone you know in any of your characters?
Michael has a lot of the same characteristics as my husband. He is handsome :), and has a heart of gold. I think I'm more like Emily, Lizzy's best friend. She's kind of kooky, loud and fun. Well... I like to think I'm fun!
4.) What was your favourite part to write in your novel?
I think my favorite part was the ending. I don't want to give anything away... but I cried and cried while writing it. (I'm laughing at myself right now, thinking of what I must have looked like. Pathetic... Ugh! hahaha)
I cried too! :( 5.) How long did it take for you to write 'In My Dreams'?
From the time I started, until the time it was finished, it took about two years. The reason is because I had three jobs at the time. Writing was almost impossible. But, I decided to give up my side business (Cameo Candies) which was a favor business. It was doing well, but I had way too much on my plate.
Then, I made my 2011 New Year's resolution... Finish, In My Dreams! And a few months later... it was complete. :)
FUN FACTS:
1.)
Dark/Milk/White chocolate?
Milk Chocolate... mmmmm
2.)
Coke/Pepsi?
Pepsi
3.)
Indoor/ Outdoor?
Outdoor! I love being outside in the sun and fresh air, although you can't tell by my snow white skin. I get teased a lot because I'm whiter than I was when I lived in Alaska. Shows how much I actually get outside! :P
4.)
Coffee/ Tea?
Definitely coffee... with lots of cream.
5.)
Reading/ Writing? (A toughie I know! :))
Hmmmmm.... that is a tough one. If I had to choose I'd say writing. Writing takes me into another realm, and I get excited whenever I do find time to write. It's a release and actually relaxes me. I'm my happiest when I'm writing and creating new and exciting worlds and stories. I started a children's fantasy story, which has been sitting on the back burner. That will be my 2012 project. Right now, I'm in the process of writing another YA paranormal trilogy. It's gonna be good! :)
Thank you, Stephanie of Steph Likes Books for having me! It's such a pleasure! :)
No problem! Thank you for stopping by my blog today! :D
GIVEAWAY TIME:
I have one ebook of In My Dreams to give away!!!
Here are the details:
Fill in this
FORM
Must be 13 or older.
International contest!!!
You don't have to be a follower, but it's appreciated of course!
Ends at 11:59 PM GMT on Friday 5/8/2011
Winner will be picked with random.org.
Questions? Email me at stephbarkerdrew(at)hotmail(dot)com
Good luck! :D